Together let us build
a nation of readers
through empowered teachers.
---
ALPABASA ONLINE
From classrooms to screens
Education systems all over the world are facing unprecedented challenges in the time of COVID-19. Homes are doubling as classrooms. Teachers and students are interacting through screens. Schools are closed, but learning must go on. That is why it has become our mission to support families and teachers as they explore new and creative ways to take education beyond the four walls of the classroom.

In August 2020, Learning Lion Books, Inc. responded to the needs of Filipino learners by making the Alpabasa Reading Program available in a digital format. We are bringing Alpabasa online to address the challenges of distance learning here and now, as well as in the future post-pandemic. We remain steadfast in our commitment to fully enable and equip families, schools, and communities in the new normal.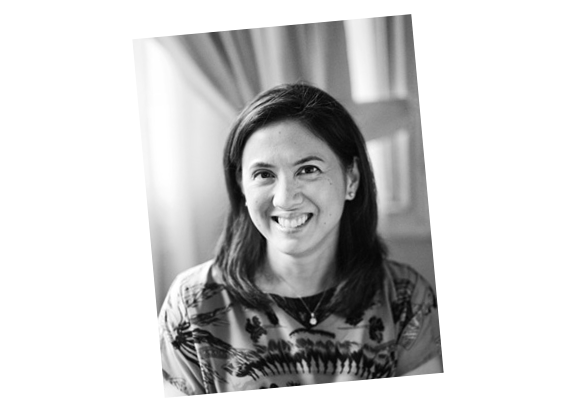 "Learning to read and eventually reading to learn will give children a good start and a chance for a better future."
 - Teacher Tisha, founder of Alpabasa
It started with a preschool teacher and a simple crayon drive. In 2002, Teacher Tisha and her class collected old crayons, scratch papers, and writing materials to donate to children in a public school in Miarayon, Bukidnon. This experience sparked the dream of filling public-school classrooms in poor communities with tools and materials that can help empower teachers and unlock children's sense of discovery.

With the support of generous individuals, organizations, and local governments, this dream is slowly becoming a reality.
---
Every Filipino Child, A Reader
 Our heartfelt gratitude to our content creators and co-founders.  Thank you for sharing your time and talent to make Alpabasa what it is today. 
Sholeh Villoria
Noelle Pabiton – Pansalin
Fides Lladoc – Mendoza
Daisy Jane Calado
Joan Andres – Abong
Aina Zulueta – Valencia
Lester Delgado
Gerry Rivas
Thank you to our Alpabasa Team and volunteers through the years
Rachel Santos
Diana Mariz Catangay
Noelle Pabiton – Pansalin
Katherina Dy
Elaine Quidato
May Michelle Balolong
Joana Paula Bautista
Joanna Conchada
Liz Tiongzon
Thank you to our Alpabasa Consultant:
Celine Santillan
Veronica Ester Mendoza
Thank you to our Graphic Artists and illustrators who brought life to our thoughts and ideas
Hazel Pascua
Jamie Buenaventura
Rachel Santos
Thom Daquioag
Allain Rubin
Glenda May Abad
Alexa Morales
Paolo Gonzalez
Special thanks to Jose Edgardo S. Cruz               

Thank you to our partner LGUs and DepEd Division Offices.
DEPED-SCHOOLS DIVISION OFFICE OF MANILA
Dr. Maria Magdalena M. Lim, CESO V, Schools Division Superintendent
DEPED-SCHOOLS DIVISION OFFICE OF SAN FERNANDO CITY, PAMPANGA
Dr. Imelda Macaspac, OIC School Division Superintendent
DEPED-SCHOOLS DIVISION OFFICE OF ANGELES CITY, PAMPANGA
Fernandina P. Otchengco, Ph.D. CESE, OIC-Asst. Schools Division Superintendent
DEPED-SCHOOLS DIVISION OFFICE OF PASIG CITY
Ma. Evalou Concepcion A. Agustin, OIC-Asst. Schools Division Superintendent
Dr. Dulce O. Santos, Education Program Supervisor, Pasig City
PAYATAS C ELEMENTARY SCHOOL, QUEZON CITY
Mr. Juan Amormio D. Carbardo, Principal IV
Ma. Lourdes C. Calaguas, Teacher III
SAN DIEGO ELEMENTARY SCHOOL, QUEZON CITY
Mr. Silverio O. Estorco, Principal IV
Gerry L. Rivas, Teacher III
Thank you to the like-minded individuals and organizations who have supported our advocacy through the years.
ROTARY CLUB ILOILO SOUTH DISTRICT 3850

ROTARY CLUB MAKATI NORTH

ROTARY CLUB OF ZAMBALES WEST

ASSUMPTION HIGH SCHOOL 87 FOUNDATION, INC.

HSBC PHILIPPINES

TUKOD FOUNDATION

RAYOMAR OUTREACH FOUNDATION, INC.

ENTREPRENEUR ORGANIZATION PHILIPPINES

TOM SAWYER'S FOOD CORPORATION

PRECISION CRESTEC, INC. 

MOMMY MUNDO

PIANDRE HAIR SALON

MovEd FOUNDATION

CANDY CORNER 

ZONTA CLUB ALABANG

MOTHER BUTLER GUILD OF ST. JAMES PARISH 

MAÑOSA PROPERTIES, INC.

TRANSLIFT SHIP MANAGEMENT, INC. 

ADSPIN ADVERTISING, INC.

YOGAPLUS PH

ATENEO DE MANILA UNIVERSITY BATCH '88

CARWORLD, INC.

AK AND FRIENDS

CARLOPACIFIC

FOREX CARGO

KTX.PH

METROBANK FOUNDATION

SAN MIGUEL BREWERY, INC. SAN FERNANDO PAMPANGA

YESPINOY FOUNDATION

ANNIE KAWPENG

DELY FERNANDEZ

TOFFER and ANDREA LORENZANA

KAREN LORENZANA

PAT LORENZANA

JANICE VILLANUEVA

JATON ZULUETA

TJ AND RIO MANOTOC

RICKY AND TRICIA BELLO

JJ AND OWENS DISINI
DONNA SIMPAO

JENNY KO

CEL TRAJANO

MAITA NOLLEDO

GEM MAÑOSA

CELY CO

TECHIE LEONIO

RICKY GONZALEZ

BOY SEVILLA

RONNIE GABALDA

LALEI GUTIERREZ

JP CARINO

MONICA OZAETA

PAULA ROMAN

JOSIE SERAFICA

STEPHANIE YU

MARIVIC PERTIERRA

ARLENE MASLOG

DEEDA GARCIA

ED AND LOURDES CRUZ

FELIPE AND RAQUEL ESTRELLA

JEN SEXON

DANNY AND LALA DY

JUSTICE ALEXANDER GESMUNDO

JOCELYN REYES

ARLENE BERTOTO

BUTCH JAURIGUE

PIA CRUZ

TINA MATEO

GENERAL MANNY MARIANO

PAUL RAINER CAPULE

LINDA FRANCISCO

PEACHY MAXWALD

AINA VALENCIA

JIN GONZALEZ

JONATHAN TE

RONALD AND KARLA CAMPOS

SHERYN ALVAREZ

MICA TAN
IF YOU ARE INTERESTED IN HELPING SPONSOR A SCHOOL PLEASE CONTACT OUR PARTNER FOUNDATION, READ TO ACHIEVE FOUNDATION PHILIPPINES INC.
Email them at readtoachieveph@gmail.com